One of the many effects of the UK's separation from the EU has been the massive increase in the size of the UK trade mark register, both as a result of the duplication of existing EU trade marks (EUTMs) and the number of new UK trade marks (UK TMs) filed. At the same time, there has been substantial growth in UK TM filing activity by Chinese companies. This crowded register is causing several significant challenges for trade mark owners and their UK representatives.
Facts, figures and implications
Approximately 2.5 million registrations
On 1 January 2021, the entire EU register of around 1.5 million (m) EUTMs was effectively duplicated onto the UK register to create comparable UK TM rights. This has created a 'super' register, with around 2.5m registrations in force currently in the UK.
Implications for trade mark owners
The size of the register poses several challenges for trade mark owners, including:
Searching, clearance and infringement risks
Undertaking due diligence before launching a new product on the UK market is now considerably more complicated. With a potential 2.5m registered UK TMs to infringe, selecting a new brand name is not easy.

At Marks & Clerk, our teams work with clients across multiple sectors to undertake research, assess results and advise on infringement risk. By developing strategies and tactics for mitigating infringement risk, we enable trade mark owners to proactively manage trade mark clearance and plan for disputes or litigation.


Portfolio management, renewals and maintenance
The UK TM portfolios of most businesses have increased significantly over the last 12 or so months, adding to costs and the administrative burden. We recommend undertaking regular portfolio reviews to keep on top of renewals, maintain up-to-date details and ensure that the portfolio continues to be accurate and reflective of your business needs.


43% Rise in UK TM Applications in 2021
There were a record number of UK TM applications in 2021, with 163,903 filed directly at the UK Intellectual Property Office (UKIPO) and another 32,647 designated as International registrations under the Madrid Protocol. That represents a 43% increase in total UK TM filings compared to 2020.
Implications for trade mark owners
The increase in filings poses additional challenges for trade mark owners in the UK, including:
Citations in official searches and resulting notifications
When UK TM applications are examined by the UKIPO, the examination includes a search for earlier registrations of similar TMs. The Applicant is provided with details of any trade marks cited in the search report, and given the opportunity to amend or withdraw the application before it proceeds. When the application does proceed and is laid open for opposition, the owners of the earlier cited TMs are notified. These notifications are important and TM owners need to consider them carefully if they are to ensure that their registered rights are not diluted. This may include taking professional advice and taking steps to oppose or otherwise object to use or registration of the trade mark.

The number of applications in which the official search cited an earlier conflicting trade mark jumped by 58% to 51,250 in 2021. The total number of marks cited and notifications issued was a staggering 191,816 during the year – an increase of 53% on 2020.

The administrative burden on UK TM owners and their UK representatives has grown significantly as a result. To assist, Marks & Clerk has developed an effective process for managing notifications, delivering succinct advice and facilitating fast decision making. Our highly trained and experienced team uses specific workflow systems to ensure this support is delivered cost-efficiently and at a high quality.

As there is always the chance that you will face the same issues across multiple jurisdictions, there are also implications for your watching service to consider. To be effective, notification management should be aligned with your overall watching and enforcement strategy.


Threatened oppositions
The opposition period in the UK is two months from 'publication'. However, trade mark owners can request an automatic extension to this timeframe by filing a TM7a 'Notice of threatened opposition'. This process effectively puts the Applicant on notice that a third party is considering bringing an opposition.

We have seen a rise in the number of TM7as being filed. In 2021, the number of such notices rose by 87% year on year to reach 13,978. This means that more than 7% of all new trade mark applications encounter a threatened opposition in this way.


Formal oppositions
Not all threatened oppositions convert into formal oppositions. Likewise, many oppositions are filed within the designated two-month period, without any prior notice or threat. The number of formal oppositions filed in this way also increased significantly last year to 6,793 – representing a year on year increase of 71%.


Negotiations
Many threatened oppositions and most formal opposition proceedings are settled by some form of agreement, resulting in either the opposition or the application being withdrawn or amended. This is because the rules of opposition proceedings in the UK allow for a cooling-off period to enable the parties to discuss a possible settlement before the opposition has to be defended formally.

The number of requests to enter the cooling-off period has increased by 53% year on year.
The overall trend is upwards
The chart below shows the steep rises in applications, notifications and resulting opposition actions from 2019 - 2021.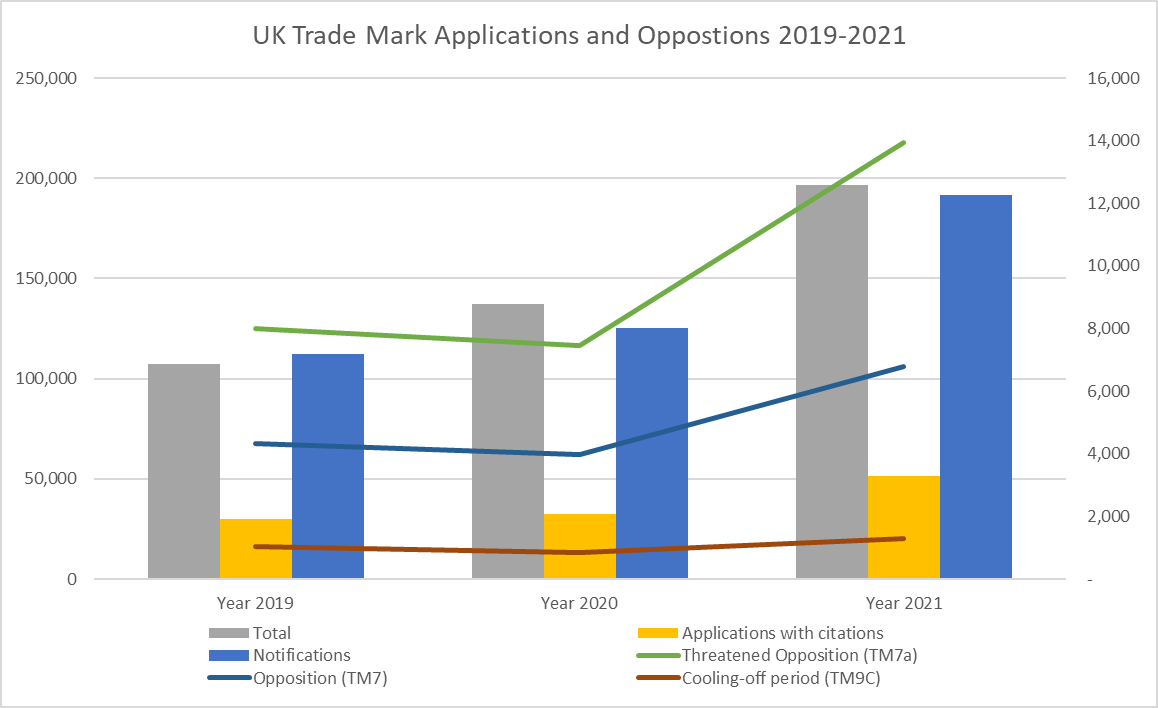 What does this mean for you?
You will inevitably need to consider some or all of these issues in the coming year and beyond. Organising a strategy and a decision-making process now will help you to prepare.
Marks & Clerk has helped trade mark owners across a wide range of industries to develop such a strategy and support decision making. We handle hundreds of oppositions and thousands of notifications a year and frequently represent clients in negotiations and written settlement agreements.
Our team has unrivalled skills, knowledge, experience, and strength in depth. Start preparing to rise to these new challenges by contacting us today on beyondbrexit@marks-clerk.com