The EUIPO First Board of Appeal has decided that the 3D shape of the "Moon Boot" no longer functions as a trade mark, and cancelled the trade mark registration for footwear in class 25. The decision was the result of an action brought by a competitor, and involved the Board of Appeal reviewing a substantial amount of evidence filed by both parties.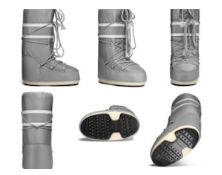 The Moon Boot's iconic look has been a longstanding presence in both the fashion and sports fields over the years. Why has such an icon had its legal protection revoked?
For a 3D shape to be registrable as a trade mark, it must be in some way distinctive of the owner's product. The shape must be materially different from basic, common or expected shapes, so that it enables a consumer to identify the goods just by their appearance. The EUIPO decided that based on the evidence, the shape of the Moon Boot does not stand out as being one particular company's product. Many other businesses sell footwear with a similar look, and therefore it is no longer appropriate for the trade mark owner to keep its legal monopoly in the shape.
What can be learned from this decision? Are 3D trade marks worth the effort? Yes! This decision should not deter owners from applying to register 3D trade marks. Rather, it is a useful reminder of what actions brand owners can take to safeguard a 3D brand.
Obtaining registration for 3D marks, whilst achievable, is challenging due to their very nature. The pay-off is long lasting legal protection. In fact trade marks can potentially remain registered forever, unlike designs or other IP rights. However, fulfilling the legal registrability criteria at the application filing stage does not guarantee lifelong immunity from problems. Trade mark protection is neither static nor isolated and it is customers' perception of the product which dictates the strength of the legal monopoly.
Strategic choices are available to the owners of a 3D trade mark aimed at nurturing and defending their brand. Once a registration has been secured, it is prudent to put in place competitor watching to detect unauthorised third-party use of the same or similar shape, so to avoid the monopoly becoming diluted. It can be enormously helpful to keep a reference library of evidence of use of the brand on the market, just in case of a future challenge. A chartered trade mark attorney can advise you in detail.
Please contact Marks & Clerk LLP if you have require detailed explanation of the matters raised by emailing: manchestertrademarks@marks-clerk.com