In a case of Nokia Corporation (Nokia) vs. Shenzhen Noain High-Tech Group Co., Ltd. (Shenzhen Noain) for trademark infringement and unfair competition, the Guangdong High Court upheld the court of first instance finding of trademark infringement and further found that Shenzhen Noain's manufacture and sale of cell phones bearing the name NOAIN 5310i constituted unfair competition. Nokia was awarded RMB 3 million in damages.
Nokia is the owner of multiple China trademark registrations in Class 9 for cell phones, including:


(No. G1298220)




(No. 5648806)




(No. 297227)




(No. 357902)
Nokia uses its NOKIA mark in its Nokia 5310 cell phone. This phone has a distinctive coloured bar (red or blue) on both sides of the screen. Four function keys are located immediately below the screen, a rounded square directional key occupies the center, and the lower portion contains a T9 keyboard. A photograph of both the Nokia phone and the Shenzhen Noain phone is set out below: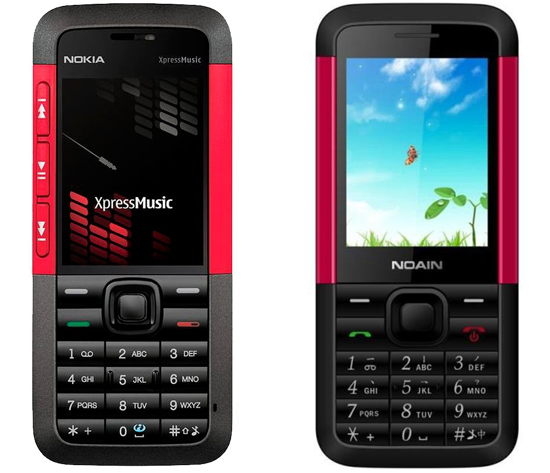 Shenzhen Noain owns China registrations for the trademarks NOAIN (nos. 11535129, 11535098, 6199979) and 诺亚信 (NOAIN in Chinese) (no. 6211776) in Class 9. The company was accused of trade mark infringement due to its adoption of the following logos:

Nokia was granted a network access license for its cell phone model 5310 in September 2007 to be valid until September 2013. In September 2016, Shenzhen Noain was granted a network access license for its cell phone NOAIN 5310i to be valid until 5 September 2019.
In the trial, the Guangdong High Court focused on two main issues:
whether the acts complained of constituted trademark infringement; and
whether these acts constituted unfair competition.
i. Whether the acts complained of constituted trademark infringement
The Court noted that Nokia's trademarks nos. 297227, 5648806 and G1298220 were first applied for in 1987 and that its trademarks NOKIA and 诺基亚 (Nokia in Chinese) had been extensively used and promoted. The registered trade mark no. 297227 NOKIA had formerly been recognized as a "well-known mark".
Despite the extensive reputation of Nokia's marks, the defendant used its (registered) marks in a style and manner similar to Nokia's trademarks (see above) on its cell phones, which was likely to confuse the public. The Court found that, regardless of the registration of the NOAIN marks, Nokia was still entitled to seek civil remedies to prohibit use by Shenzhen Noain of its later registered marks in a manner that would mislead the public by imitating Nokia's well-known trademark.
ii. Whether the acts of Noain constituted unfair competition
Although the Nokia 5310 product had been discontinued by the time of the action, the Court found that it possessed strong distinctive characteristics that are closely associated with Nokia, and awareness of the product and its influence in the market would not be lost over a relatively short period of time. Moreover, the NOKIA trademark had been recognized as "well-known".
The "Noain 5310i" cell phone of Shenzhen Noain was highly similar to Nokia's "Nokia 5310" series of cell phone in terms of name and design and decoration.  The defendant was aware of the Nokia product and its popularity and produced its "Noain 5310i" phone carrying a similar name and design and decoration. The Court decided that there was an obvious attempt to improperly and unfairly trade on Nokia's popularity.
Taking account of all the factors, the Court ended up making an award of damages in the amount RMB3 million against Shenzhen Noain.
The interesting aspect of the case is that products that have since exited the market may still be afforded protection if sufficiently distinctive and popular. This should not only encourage rights holders to be bolder in seeking appropriate remedies under the anti-unfair competition law, but hopefully would-be infringers.