IP law, particularly copyright, has always been very important within the entertainment world, most notably for books, films and music. However, the rise in popularity of video games and the evolution of esports has emphasised the importance of a robust IP strategy for game developers and esports professionals.
Esports, or competitive video gaming, is one of the fastest-growing sports in the world and lucrative for both players and businesses. Global esports revenue now tops US$1.1 billion, and viewer numbers of popular titles such as Dota, Fortnite and Overwatch are often greater than that of traditional major sporting events such as the Super Bowl.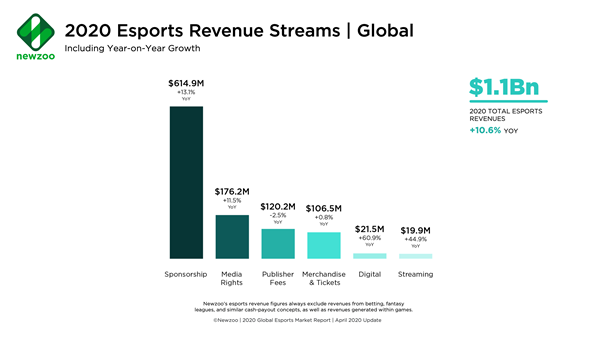 Source: NewZoo (2020) Key Numbers. [Online] Available at https://newzoo.com/key-numbers/
Booming business
An American video game developer, publisher and esports organiser, Riot Games, is behind the world's most played esports title, League of Legends. Part of the popular multiplayer online battle arena (MOBA) subgenre of video games prominent in esports, League of Legends features two teams fighting each other. The game already has competitive series in the USA, Europe, China and South Korea and its 2018 world championship finals were watched by over 99 million people worldwide. 
Riot Games has recently partnered with Swedish telecoms company Telia and esports organisation DreamHack to launch a Nordic regional eSports competition this summer. Heli Partanen, CEO of Telia Finland, said that the new League of Legends Nordics series will have national and international components and is intended to make Nordic countries "a significant part of the global esports ecosystem". This will be good news for ambitious players in Finland, Sweden, Norway and Denmark who want to join the professional ranks, as well as the companies involved.
Companies such as Amazon, owner of the esports media and streaming platform Twitch, are also getting in on the action. The International Olympic Committee has even said that esports based on traditional sports such as football could be considered a sporting activity. The Chairman of LA 2024 meanwhile has suggested utilising technology used in League of Legends such as augmented reality and virtual reality to make the Olympics more accessible to younger audiences.
IP and esports
Esports revenue is driven by: advertising and sponsorship (Riot Games collaborates with brands such as Kia, Warner Music, Kit Kat and Red Bull), the sale of rights to broadcasters such as ESPN, ticket sales, in-game purchases and payments from streaming services. The League of Legends brand also has a lucrative range of merchandise and other media tie-ins including music videos and web series. Intellectual property is key to monetising this revenue. Due to its nature, esports can benefit from IP protection to a greater extent than traditional sports, particularly because video games can be protected by copyright. Trade marks and other IP rights are also an important part of brand protection.
On the player side, their derivative content is often licensed to developers since standard terms of business usually give players the right to play a video game on a non-commercial basis. According to Riot Game's terms of service, the publisher is given a worldwide, extensive and royalty-free license to use the player's content including copyright, publicity rights and trade marks. However, significant revenue can also be earned by top players in the form of prize money. For example, the 2018 League of Legends World Championship had a prize pool of over US$6.4 million and in 2019, the prize included a bespoke Riot Louis Vuitton trophy travel case. There is also sponsorship and streaming revenue, available through services such as YouTube and Twitch to consider.
Players as well as companies need to be careful not to infringe the rights of others, including the use of team names and gamer tags. Last year, Riot Games sued the esports team Riot Squad in California alleging that it chose the name to confuse consumers. Professional players and teams also need to protect their own brands and particularly consider obtaining trade mark protection. 'Image' or 'personality' rights are also protected in some jurisdictions.
This is still a developing area of law but it is clearly important to seek legal advice when seeking to commercialise in this exciting field.