In a lawsuit for trademark infringement lodged by Guangzhou Aichi Leather Products Co., Ltd. ("Aichi") against both Ralph Lauren Trading (Shanghai) Co., Ltd. ("Ralph Lauren") and Beijing Scitech Shopping Mall Co., Ltd. ("Scitech"), the Beijing Intellectual Property Court reversed a first-instance judgment and held instead that Ralph Lauren's use of "POLO" logo would not cause confusion and did not infringe Aichi's registered trademark.
Basic facts
An affiliate of Aichi applied in September 2002 under no. 3301575 to register the trademark POLO for bags in Class 18. It was approved for registration in August 2007. The mark was subsequently assigned to Aichi. The parent company of Ralph Lauren owned prior trademark registrations no. 1230236 POLO BY RALPH LAUREN and no.162757 POLO RALPH LAUREN for bags in Class 18.
In July 2016, Aichi purchased dozens of bags from RALPH LAUREN counters at the Beijing Scitech Shopping Mall and the Shanghai New World Daimaru Shopping Mall. All of these bags carried tags bearing "Brand name: Ralph Lauren" and "Ralph Lauren Trading (Shanghai) Co., Ltd.". Inside the bags, there was a logo POLO RALPH LAUREN, but POLO and RALPH LAUREN were displayed on separate lines with POLO either prominently displayed or separately embroidered. Aichi sued both Ralph Lauren and Scitech for trademark infringement and claimed compensation of nearly RMB 8 million.
See below samples of use of the logo (from Ralph Lauren's official website), found by the author, as well as a picture of RALPH LAUREN's brand store: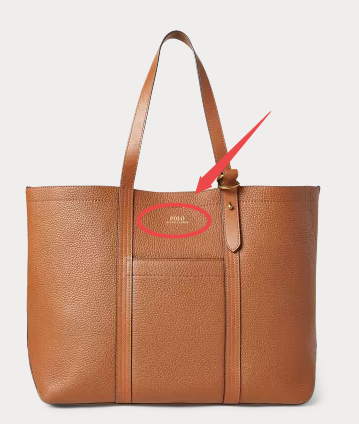 Front view of a bag branded "POLO RALPH LAUREN"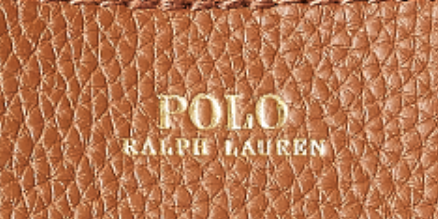 Detailed view of the logo part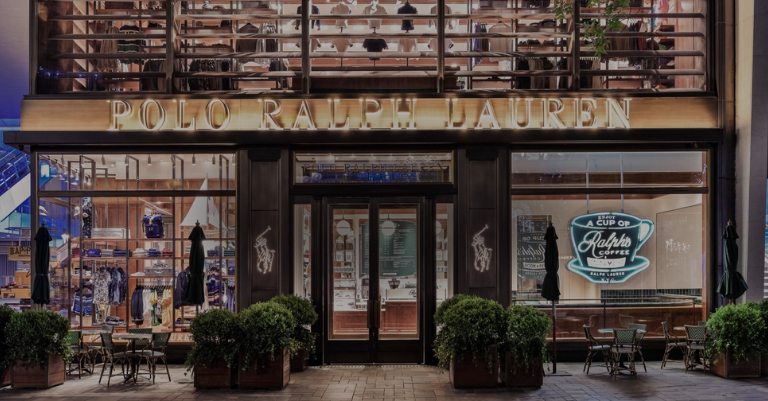 Ralph Lauren storefront. Images from www.ralphlauren.cn.
First-instance Judgment: [(2016) JING0105 MinChu No. 56460]
At first instance, the Beijing Chaoyang District People's Court held that the logos used by Ralph Lauren on bags constituted use of a mark identical or similar to the registered mark of Aichi. As such, Ralph Lauren's infringing activity was likely to cause confusion or misunderstanding amongst relevant consumers as to the origin of the goods, and infringed Aichi's exclusive rights conferred by its trademark registration. Ralph Lauren's act was characterized as "obviously malicious" and the plaintiff was awarded RMB 3 million in damages taking account of a variety of factors at the Court's discretion. As Scitech had obtained legal authorization to sell the bags, and did not know they were infringing products, it did not bear any liability for damages.
Dissatisfied with the judgment, Ralph Lauren lodged an appeal.
The Second-Instance Judgment [(2019)JING 73 MinZhong No. 1462]
On appeal, the Beijing Intellectual Property Court overturned the first-instance judgment and dismissed all claims brought by Aichi. It held:
The basic function of a trademark is to distinguish the origins of goods or services, and the determination of whether a logo used by an operator in commercial activities constitutes trademark infringement shall be based on whether the specific use of the logo destroys the connection between the mark and the goods or services, i.e. whether it causes confusion or misunderstanding as to the origins of goods or services to the relevant public, and whether there is a subjective intent to maliciously attach to the goodwill of other.
More specifically:
Although Ralph Lauren prominently displayed the word POLO on some of its products, it used RALPH LAUREN on the main store signage and there was an embroidering of POLO RALPH LAUREN on the allegedly infringing products. Also, the mark POLO RALPH LAUREN and the company name "Ralph Lauren Trading (Shanghai) Co., Ltd." were clearly displayed on the tags. Also, they were displayed and sold in Ralph Lauren's branded stores, which clearly indicated the provider of the goods. Aichi did not provide evidence to demonstrate its own use of the mark involved on the relevant goods or the existence of any reputation acquired through such use. Therefore, when consumers entered the Ralph Lauren store to buy the relevant goods, they would clearly know that the goods are from Ralph Lauren and would not associate them with Aichi or its mark or be falsely led to believe that there was any relationship between the two. As such, the use of the mark by Ralph Lauren did not cause confusion or misunderstanding as to the origins of the goods.
The evidence submitted by Ralph Lauren showed that its parent company had applied for registrations of a multiplicity of marks containing POLO for goods including clothing, bags, etc. As a result of extensive promotion and use, the RALPH LAUREN marks had established a stable correspondence with Ralph Lauren and its parent company, and also has obtained a level of reputation and influence. By contrast, Aichi did not provide any evidence attesting to its own use of the POLO mark on bags or evidence of any reputation. Therefore, there was no subjective intention, or objective reason, for Ralph Lauren to maliciously attach itself to any goodwill in Aichi's mark in order to enhance its competitive advantage in selling the allegedly infringing goods in its own branded stores.
While Aichi was entitled to make its claim as a legitimate rights' owner in respect of the mark involved, the manner of Ralph Lauren's use would not cause confusion in the marketplace and thus its activity did not constitute trademark infringement.
Brief comments
In this case, the court at second instance took account of a variety of factors in determining whether there was trademark infringement and "malicious attachment". These included the manner and circumstances of use of the marks by the alleged infringer, and the duration, scale and influence of its prior use of the mark, and whether a stable association had been formed between the mark and the user. It also looked at the use and influence of the mark of the petitioner. Ralph Lauren also asserted in this case that Aichi had preempted its mark in bad faith and had climbed on its goodwill, but the Court did not directly comment on whether Aichi may have preemptively applied for the mark involved. Nonetheless, at second instance at least, this case provides some comfort to genuine trademark rights holders in the face of malicious complaints or abuse of process in bringing infringement lawsuits after a trademark squatter has acquired rights.